Feature Enhancements for Auto Pilot in PPC Entourage
We've made several major upgrades to the Auto Pilot tool.
Automation At Ad Group Level
You can now set Autopilot rules at the ad group level, allowing for a more nuanced and specific method of setting up automation.
Simply use the toggle in the upper left to switch from Campaign based rules to Ad Group based rules, then use the drop down to select the Ad Group you wish to work on.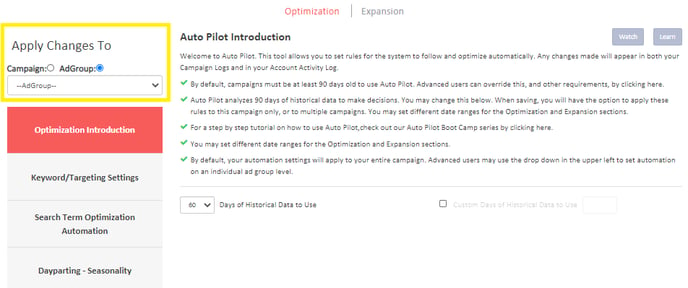 Auto Pilot Bid Automation for Automatic Campaigns
The bid optimization automation section, previously reserved for keywords only, is now available for both old auto campaigns and new auto campaigns (close match, loose match, etc.).
Open an automatic campaign and set your preferences as you would for any other campaign you'd like to adjust bids for, and Auto Pilot will do the rest.
Advanced Keyword/Target Settings
We've completely revamped the Advanced Keyword/Target Settings with new options, and the ability to set various lookback periods and frequenies for optimization.
The Lookback Period allows you to adjust how much historical data Entourage considers for each specific automation rule.
The Frequency setting allows you to dictate how often Entourage analyzes the data and makes changes. Previously, Entourage would automatically check and optimize each night. Now, you can set daily, weekly, or even monthly automated optimization schedules.