Navigation, User Experience, and Instructions Improvements
Main Navigation Changes
We've changed the names of some of the main areas of the site to make it easier to understand where to go. The new main sections are:
Create & Expand Ads
Optimize Ads
Bulk Optimization
Auto Pilot Manager
We've removed the "Your Products" section from the main navigation to avoid clutter and make it easier for you to jump right into creating and optimizing your ads. All of the same abilities/functions for Your Products can be performed by clicking "Add Cost of Goods and View Product Performance" on your main dashboard.
Main Dashboard
Many users felt that it was too difficult to get to the customizable reporting section and the activity log, so we've revamped the Main Dashboard to include tabs for this information.

Instructions & User Experience
We've kept the "Watch Tutorial Video" button in the upper right of each page, however we have also made our text based instructions clearer for each page. Those instructions can now also collapse on the page by clicking the "Learn How To Use This Page" button.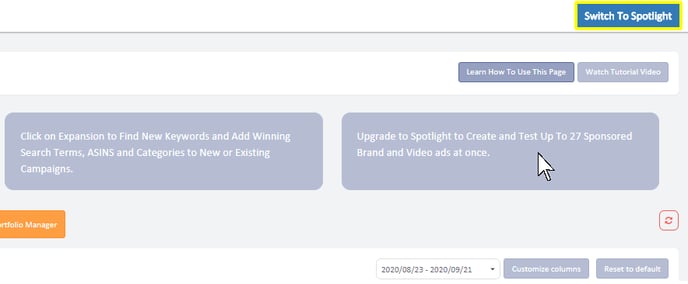 You can have the instructions open the entire time, or save room on the page by collapsing the instructions section.
Further, when you hover your mouse over certain instruction boxes, we will now automatically highlight areas on the page important to those instructions, so you know exactly where to go.
This update was designed to make PPC Entourage easier to navigate and more intuitive to use. If you have any other ideas or suggestions, please contact Support and let us know.